Posts for tag: periodontal (gum) disease
By Briarcliff Center for Esthetic Dentistry
November 24, 2018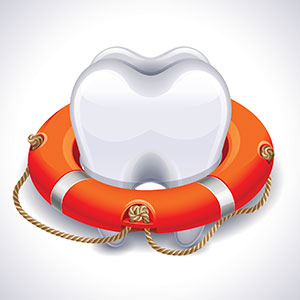 It's no exaggeration — dental implants have revolutionized teeth replacement. Life-like and durable, implants are the closest thing in design and function to a natural tooth.
In fact, there's only one thing better than a dental implant — a real tooth. For function and long-term oral health, you can't beat what nature provided you in the first place. So before you finally decide to remove and replace that problem tooth, consider these other options for saving it.
Root canal therapy. Tooth decay can do more than cause cavities — it can work its way into the pulp, the innermost layer of a tooth. If it isn't stopped here, it could continue on to the roots and put the tooth in real danger of loss. A root canal treatment removes the infection from the pulp and root canals and replaces the space with a filling. A life-like crown is then bonded or cemented to the tooth to protect it from further infection.
Aggressive treatment for periodontal (gum) disease. This other dental disease is just as damaging as tooth decay. Caused by bacterial plaque, the gums around a tooth become infected and inflamed. As it moves deeper into the tissues and inflammation progresses, it can affect supporting bone causing it to dissolve. To prevent this potential bone loss, it's important to seek out and remove hidden pockets of plaque. This may require surgery to access the roots for plaque and calculus (tartar) removal, but it's well worth it to preserve the tooth.
Bone grafting. As mentioned before, gum disease can ultimately lead to bone loss. But even when bone loss has occurred (a substantial threat to a tooth's survival) we may be able to reverse it with bone grafting techniques. During this procedure we insert grafting material at the loss site along with substances that stimulate growth. The graft serves as a scaffold for new bone cells to grow upon. Over time the bone volume increases and helps stabilize a weak tooth.
Of course, your best option is to avoid dental disease in the first place with daily brushing and flossing and regular dental visits for cleanings and checkups. That and treating dental disease in its earliest stages will help ensure you'll have the best teeth possible — your own.
If you would like more information on options for treating diseased teeth, please contact us or schedule an appointment for a consultation. You can also learn more about this topic by reading the Dear Doctor magazine article "Save a Tooth or Get an Implant?"
By Briarcliff Center for Esthetic Dentistry
August 23, 2012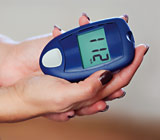 Did you know that recent research has shown diabetes is a risk factor for increased severity of periodontal (gum) disease and that periodontitis is a risk factor for worsening blood glucose (sugar) control in people with diabetes? Periodontitis can even increase the risk of diabetic complications for people diagnosed with diabetes. When you combine these facts with the following, you will clearly see how important it is to understand and manage these two diseases.
Over 23 million people in the United States currently have diabetes and over 170 million worldwide.
14+ million Americans have a condition called pre-diabetes.
Another estimated 6 million people in the US have diabetes but are unaware and thus not diagnosed.
Periodontal disease is the second most common disease known to man, only surpassed by tooth decay.
Diabetic individuals with periodontal disease have a greater risk for cardiovascular and kidney complications than those diabetics not having periodontal disease.
What You Can Do
One of the most important steps you can take if you have either of these conditions or suspect that you might have one or both is to make an appointment with your physician or with our office for a thorough examination. You should schedule an appointment with your physician for an exam and blood work so that your general health and well-being are monitored. Be certain to share your medical information and any family history of diabetes with our office, as it tends to occur in families.
Learn More
Learn the risks and how to take care of types 1 and 2 diabetes, as well as the stages of periodontal disease (with detailed full-color illustrations) when you read the Dear Doctor article, "Diabetes & Periodontal Disease." Or if you want to schedule an appointment to discuss your questions, contact us today.
By Briarcliff Center for Esthetic Dentistry
January 31, 2012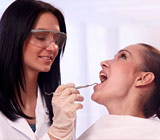 Gum or periodontal disease is a condition in which "biofilms" or dental bacterial plaque sticks to teeth around the gum line in the absence of good oral hygiene. If left untreated, it causes inflammation of the gums and surrounding tissues of the teeth that can result in "pocketing," gum recession and bone loss that eventually leads to loose teeth, followed by no teeth! And for about 10 to 15% of those having gingivitis or stage 1 periodontal disease, it can get worse by progressing into chronic periodontal disease. However, the good news is that a conservative and simple treatment called root planing combined with good daily oral hygiene may return your gum tissues to health, and even eliminate the need for gum surgery.
Most of the time, root planing is performed with local anesthesia (numbing shots) in the areas requiring treatment. Anesthesia is an important part because you should always feel relaxed and comfortable during treatment. Because inflamed gum tissues may be quite sensitive, these numbing shots enable us to accomplish our goals and thoroughly remove the problematic material from your teeth's roots.
Root planing or deep cleaning is a routine dental procedure usually done in conjunction with scaling, the removal of the more superficial deposits on the tooth surfaces. Root planing involves physically planing (scraping) the root surfaces of the teeth to remove calculus, bacteria and toxins that are ingrained into their surfaces so that the attached gum tissues can heal. It is carried out with manual hand instruments, ultrasonic electronic instruments or a combination of both for your comfort and best results.
You can learn more about this procedure by reading, "Root Planing." Or if you want to schedule an appointment to discuss your questions, contact us today.