Welcome to Our Practice
Welcome to The Briarcliff Center for Esthetic Dentistry
Michael Teitelbaum D.M.D., M.A.G.D., F.A.C.D. - Cosmetic dentist serving the Westchester, Briarcliff Manor, and White Plains, New York areas. Dr. Teitelbaum has been working with patients to provide the best cosmetic and family dentistry care for patients in the Westchester and Briarcliff Manor area for almost 30 years is the 1st President of the Greater New York Academy of Cosmetic Dentistry, Founding Vice-President. of the Empire State Academy of Cosmetic Dentistry (www.ESACD.com), and a Supporting Member of the American Academy of Cosmetic Dentistry.
New Patient Special: Free Cosmetic Consultation
When You Mention This Site!
Click HERE to contact our office.
One of the goals of our Web site is to provide you with an extension of care. As you navigate through the site you will find a wealth of information about cosmetic dentistry, tooth care, procedures and treatments. We believe our patients deserve to have the information needed to make wise choices about their oral health. There is an overview of our practice including our doctor and staff, office hours, insurance, procedures, directions and contact information.
As a cosmetically focused dentist serving Briarcliff Manor, White Plains, Ossining, and the Westchester County area. We work with you so you can achieve and maintain a beautiful smile and healthier teeth and gums. We take time with you to explain your treatment options and inform you of additional preventive care.
Some of the services we offer include:
Our office is conveniently located in Briarcliff Manor, Westchester County, New York, NY and we invite you to call with any questions at 1-914-941-2000 or email us via the Contact Us or Request An Appointment page of our Web site. We will do everything possible to ensure you a pleasant visit.
TREATS FOR THE TROOPS!!
BRIARCLIFF MANOR (October 31, 2022) - For the twentieth (20th) year in a row, a twist on the old "Trick Or Treat" custom is returning to Westchester this holiday season---the Treats for Troops program. Native Briarcliff Manor resident Dentist Michael Teitelbaum is concerned about all the sugar consumed around Halloween. so he's doing something about it, fighting tooth decay and helping our troops have a happy Halloween! Dr. Teitelbaum will collect candy from kids and their families, then send the candy to our troops overseas. The collected confections brought into his office (1312 Pleasantville Road, Briarcliff Manor, NY) will then be sent to American troops.
---
Dr.'s Daughter also overwhelmed with candy!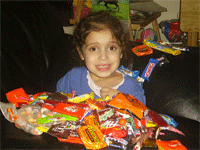 "It gets the candy away from kids, who are already at a cavity-prone age, and helps cheer up soldiers, who are far from home & can't enjoy the simple pleasure of Halloween," commented Dr. Teitelbaum.
The sweets can be dropped off for 2 weeks following Halloween, from Monday, November 2nd, through Monday, November 15th (or call to see if you can still bring it over) during his normal business hours. "This is my 20th year collecting and donating literally thoiusands of pounds of candy. I enjoy doing things that are fun, yet also good for people's health. Let's face it, this time of year both adults and children eat too much sugar and end up paying the price later with a mouth full of cavities" said Dr. Teitelbaum, who has been practicing cosmetic/family dentistry for over 30 years. This charity-minded professional has collected and shipped over 3000 pounds of candy from all over the country and had his efforts spotlighted on national TV.
Among other charitable endeavors, Dr. Teitelbaum also volunteers his services restoring smiles of battered women through the "Give Back a Smile" program, donates teeth bleaching treatments for local charity fundraisers and annually gives money from smile whitening to Garth Brooks' children's charity through the "Smiles for Life" Program.
Dr. Teitelbaum, who specializes in reconstructive and cosmetic dentistry, graduated from the University of Pennsylvania School of Dentistry in 1989, received his Masters in the Academy of General Dentistry in 2018, and has been practicing dentistry in Briarcliff Manor, NY since 1990. Dr. Teitelbaum is President of the Greater NY Academy of Cosmetic Dentistry, director of the Westchester Academy of Restorative Dentistry, a member of the American Academy of Cosmetic Dentistry and the American Dental Association. He is the Director of Westchester's only DentistSpa. For more information, call (914) 941-2000 or visit DentistSpa.com
---
April is Nat'l Head & Neck Cancer Awareness month
Did you know, according to the American Dental Association 95% of dentists in the US don't check for Head & Neck Cancer on a routine basis, yet Dr. Teitelbaum finds about a half dozen suspicious things every year, and 2-3 of them turn out to be cancer every year? Have you been checked? Call today to get screened at no charge! Call Chris, our office Concierge, to make it happen at 914-941-2000. Help save a friend's life - tell them too! We participate in Nat'l Head & Neck Cancer Awareness month.
Free Roses & Chocolates on Valentines Day, Popcorn Ball "Moons" to celebrate "Moonday" on July 20th!
Plus lots more fun for other special days!