Posts for tag: dentures
By Briarcliff Center for Esthetic Dentistry
July 25, 2012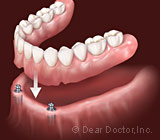 When a device meant to make your life easier doesn't function properly, it can be extremely frustrating. This is sometimes the case for people who wear lower dentures, which loosen over time. These removable replacement teeth can become less reliable and more uncomfortable. Why does this happen?
The answer is bone loss. When a tooth is lost, the bone surrounding it deteriorates and this will change the shape of the jawbone in your mouth. You may find that a lower denture that once had a snug fit on your lower jaw is now sliding around. This happens more often on the bottom because your muscular tongue pushes against the denture. Also, a top denture has more surface area due to an artificial palate to help create suction to the roof of the mouth and keep it in place.
Dental implants, which permanently replace the roots of teeth, do not loosen and they also prevent bone loss. But replacing a whole set of bottom teeth with dental implants and crowns is expensive. What to do?
There's a relatively new solution that combines the security of implants with the affordability of a removable denture. It's called an overdenture, and it may be something you want to consider. An overdenture is a lot like the removable lower denture you already have, only it fits over two implants strategically placed in your lower jaw. While the lower denture is still removable, its stability is greatly improved.
Studies have shown that people with two-implant overdentures have a higher quality of life, and receive better nutrition, than those wearing conventional dentures. It's not hard to figure out why: A more stable denture makes it easier to eat healthy foods such as vegetables — or, really, any foods — and prevents embarrassing slippage of false teeth.
If you are tired of living with a wiggly lower denture, contact us to discuss two-implant overdentures, or to schedule an appointment for a consultation.
You can read more about this topic in the Dear Doctor magazine article "Implant Overdentures for the Lower Jaw."
By Briarcliff Center for Esthetic Dentistry
January 03, 2012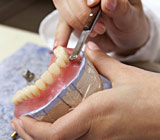 Even with all the medical know-how we possess at the dawn of the 21st century, complete tooth loss is still a big problem. In this country, more than a quarter of all adults between ages 65 and 74 have lost all of their teeth. For these individuals, removable full dentures are often still used as an affordable and effective way to replace missing teeth.
Success with dentures originates from a collaboration among dentist, laboratory technician, and, of course, the denture-wearer. Creating false teeth that look natural is as much an art as it is a science. We take a number of steps to make sure you will get the best results. These include:
Positioning the teeth. Using facial landmarks and photographs of how you used to look before your teeth were lost helps us determine where to place each tooth and how the upper and lower teeth should line up in relation to each other. For example, we will consider what size the teeth should be; how close to the lip they should be; and how much space should exist between the upper and lower teeth when they are at rest.
Simulating natural gums. If you are someone with a "high lip dynamic" (a lot of gum shows when you smile), it is particularly important to simulate real gum tissue in a set of full dentures. Fortunately, there are many colors and textures available to create a realistic effect. Again, photographs can be helpful in achieving this.
Balancing the bite. We must make sure that your upper and lower dentures come together in a way that facilitates normal biting, chewing, and speech.
As a denture wearer, you will need to visit our office regularly to make sure the gum tissue and bone upon which your dentures rest stay healthy. It's common to see a gradual loss of bone in people who wear dentures at a rate that varies from person to person. This bone loss can affect the fit of your dentures and lead to other health problems, which we can address if we are monitoring you on an ongoing basis.
If you have any questions about dentures, please contact us or schedule an appointment for a consultation. You can learn more about this topic by reading the Dear Doctor magazine article "Removable Full Dentures."