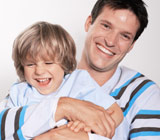 Your children's health is a major concern for you, even before they're born. That concern should include their dental health and, yes, even before they're born — a baby's primary teeth are already forming just a few weeks into pregnancy.
Here, then, are some important tips for keeping your child's dental health, before and after birth, on track.
Eat healthy during pregnancy. Your baby's teeth actually begin to mineralize around the third or fourth month of your pregnancy. You can aid this process by eating a diet rich in calcium, phosphorous and protein.
Fight tooth decay by limiting sugar. Sugar is a major contributor to tooth decay, especially in primary teeth. To reduce this risk, limit sugary snacks as much as possible, and avoid bottles filled with sugar-filled liquids (including breast milk) during your baby's sleeping hours.
Begin good hygiene early. When teeth first appear in the mouth you should begin to wipe around the teeth and gums with a water-soaked gauze pad right after feeding. As teeth develop, begin to gently brush them with a soft-bristled brush with just a smear of fluoridated toothpaste. Teach your child beginning around age 2 to brush for themselves with a pea-sized amount of paste on the brush. By age 6, they should be able to brush on their own and ready to learn flossing.
Schedule regular dental visits and cleanings. Dental checkups should begin around their first birthday and continue semi-annually. Your dentist is a key resource in monitoring tooth development, preventing disease and developing future treatment strategies.
Make your home "tooth-friendly." Your home environment can be a danger to your child's mouth. Check for hard or sharp surfaces your child could fall on and eliminate the danger — it's estimated half of dental injuries to children under seven occur near home furniture. Check your drinking water as well — does your system add fluoride, a proven cavity fighter, or do you need to find other sources?
Taking a few precautions and establishing good life-long dental habits will help ensure your child's teeth and gums remain healthy right into adulthood.
If you would like more information on oral health for children, please contact us or schedule an appointment
for a consultation. You can also learn more about this topic by reading the Dear Doctor magazine article "Top 10 Oral Health Tips for Children."