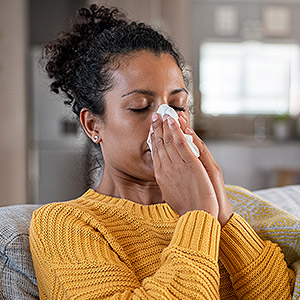 If you suffer frequent sinus infections, you might want to see a dentist. No, really—your recurring sinusitis might stem from a decayed tooth.
Tooth decay can start as a cavity, but left untreated can advance within the tooth and infect the pulp and root canals. If it reaches the end of the root, it can cause the root tip and surrounding bone to break down.
A severe toothache is often a good indicator that you have advanced tooth decay, which can usually be stopped with a root canal treatment.  But a decayed tooth doesn't always produce pain or other symptoms—you could have a "silent" infection that's less likely to be detected.
A symptomless, and thus untreated, infection in an upper back tooth could eventually impact the maxillary sinus, a hollow air-filled space located just above your back jaw. This is especially true for people whose tooth roots extend close to or even poke through the sinus floor.
That "silent" infection in your tooth, could therefore become a "loud" one in the sinuses causing chronic post-nasal drip, congestion and, of course, pain. Fortunately, a physician or an ear, nose and throat (ENT) specialist might suspect a dental origin for a case of recurring sinusitis, a condition known as maxillary sinusitis of endodontic origin (MSEO).
Antibiotic treatment can clear up sinusitis symptoms short-term. It's unlikely, though, it will do the same for a dental infection, which may continue to trigger subsequent rounds of sinusitis. The best approach is for a dentist, particularly a specialist in interior tooth disease called an endodontist, to investigate and, if a decayed tooth is found, treat the source of the infection.
As mentioned earlier, the solution is usually a root canal treatment. During this procedure, the dentist completely removes all infected tissue within the pulp and root canals, and then fills the empty spaces to prevent future infection. In one study, root canal therapy had a positive effect on alleviating sinusitis in about half of patients who were diagnosed with a decayed tooth.
If your sinusitis keeps coming back, speak with your doctor about the possibility of a dental cause. You may find treating a subsequently diagnosed decayed tooth could alleviate your sinus problem.
If you would like more information on how your dental health could affect the rest of your body, please contact us or schedule an appointment for a consultation. You can also learn more about this topic by reading the Dear Doctor magazine article "Sinusitis and Tooth Infections."