By Briarcliff Center for Esthetic Dentistry
February 24, 2014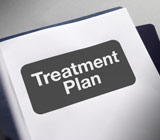 Dental implants are one of the best tooth replacement systems available. But while they can rejuvenate patients' smiles and potentially provide a lifetime of service, they require thorough planning and preparation before the implant is inserted.
The process begins with the assembling of your treatment team. Implants require the training and expertise of a number of professionals who collaborate during the process: a dental specialist, like an oral surgeon, periodontist or a general dentist trained in implant dentistry, who surgically installs the implant; a dental technician who fashions the permanent life-like crown that will attach to your particular implant; and a restorative dentist who begins and ends the process with you — from initial consultation and planning to the permanent crown attachment. You, the patient, are also part of the team — your input and informed choices are essential to a successful outcome.
Your restorative dentist will take the first steps to develop your treatment plan. It begins with both a dental examination and a general health assessment to determine your fitness for any surgery. The dental examination serves to evaluate the site where the proposed implant or implants will be placed, along with x-rays for assessing the quantity and quality of bone at the site. Next, the dentist will create study models of your mouth to assess bite, and possibly take photographs to guide decisions on the implant crown's color and appearance. The last step may be the development of surgical guides to ensure accurate placement of the implants by the surgeon.
One of the biggest questions to answer at this stage is whether or not you have sufficient bone mass to support the implant. You may have experienced significant bone loss due to disease or from resorption (the dissolving of bone) because of tooth loss. Insufficient bone mass can be remedied with a bone graft placed within the site that stimulates bone growth, which if successful will provide enough bone to support the implant.
While this preparatory phase before implant placement can be very involved, it's absolutely necessary for ultimate success. The careful planning and prep work performed by your implant team — and your own participation in the process — will ensure that you'll be happy with your new implants and your new smile.
If you would like more information on dental implant options, please contact us or schedule an appointment for a consultation. You can also learn more about this topic by reading the Dear Doctor magazine article "Dental Implants."
This website includes materials that are protected by copyright, or other proprietary rights. Transmission or reproduction of protected items beyond that allowed by fair use, as defined in the copyright laws, requires the written permission of the copyright owners.