Posts for tag: missing teeth
By Briarcliff Center for Esthetic Dentistry
June 20, 2017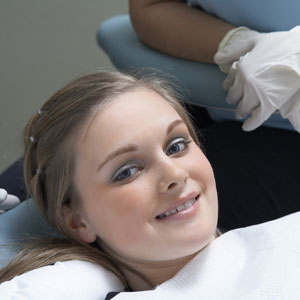 Dental implants are widely considered by both dentists and patients as the premier choice for replacing missing teeth. Unfortunately, implants aren't the appropriate choice for teenagers with missing teeth.
That's because their jaws won't fully finish most of their growth and development until early adulthood. An implant placed too early could become misaligned as the jaw matures. The best approach for a teenager is a temporary restoration until they're old enough for an implant.
There are a couple of good options. One is a removable partial denture (RPD), prosthetic (false) teeth set in an acrylic base that mimics gum tissue at the locations of the missing teeth. RPDs, which stay in place by way of metal clips that fit over other teeth, are easy to wear and maintain.
On the downside, an RPD can break if you bite into something too hard. They can lose their fit and may need to be replaced with a new one. And, some teens aren't quite keen on wearing a "denture."
Another option is a bonded or Maryland bridge, a kind of fixed bridge. We bond dental material to the back of a prosthetic tooth with portions of the material extending out from either side of it.  We then bond these extending tabs to the back of the teeth on either side of the prosthetic tooth to hold it in place. Unlike traditional bridges, we can eventually remove it without any permanent alterations to the teeth it's attached to.
Before we undertake a bonded bridge, though, we must make sure the gums and bone of the surrounding teeth are free from periodontal (gum) disease and are healthy and strong enough to support the bridge. We also need to be sure the patient doesn't have a deep bite or a teeth grinding habit, which could cause the teeth to make contact with the tabs and break them.
The patient also needs the maturity to responsibly perform diligent oral hygiene: this type of bridge has a tendency to build up disease-causing plaque, so brushing twice and flossing once every day is critical. Not doing so increases the risk of tooth decay or periodontal (gum) disease, which could complicate a future implant.
We can discuss these options after a thorough dental examination of your teenager. Either way, we'll be able to restore your teen's smile until we can undertake a more permanent restoration.
If you would like more information on tooth replacement options for teenagers, please contact us or schedule an appointment for a consultation.
By Briarcliff Center for Esthetic Dentistry
September 02, 2014
If you are one of the millions of Americans with missing teeth, then you're probably aware of some of the obvious side effects. You may feel self-conscious during conversations or simply avoid smiling altogether to conceal your dental issue. It is not uncommon for missing teeth to affect your confidence, but did you know that there are other problems that result from tooth loss?
For starters, if you have lost enough teeth, eating may become more difficult, in particular healthy foods, such as fruits and vegetables. This is one of the main reasons that inadequate dental care frequently results in nutritional deficiency.
Another very serious issue that results from missing teeth is bone loss. We sometimes refer to this as a "hidden consequence," because you may not actually see or feel this issue right away. Did you know that bone is actually living tissue that needs constant stimulation to maintain its form and density? Thus, when a tooth is lost, the bone in the jaw that surrounded and supported that tooth melts away. There is a 25% decrease in width of bone during the first year after tooth loss and an overall 4 millimeters decrease in height over the next few years. The longer you have missing teeth, the greater the loss of bone.
As bone loss continues, it can actually affect the structure of your face. If you lose your teeth early in adulthood, by age 45 you might start to notice sunken cheeks. By age 60, your cheeks and lips will lose their support, resulting in a collapsed and aged look. If your teeth are not replaced, this process will continue, and you will be in danger of losing much of the structural support of your lips and cheeks.
Luckily, we can use dental implants to not only restore your smile, but also to halt this bone loss. Implants look, feel and function like your natural teeth and are made of titanium, which has the unique ability to fuse with your living bone. Among the many benefits of implants, they continue to provide stimulation to your bone, preventing further bone loss.
With a success rate of more than 95%, implants are the best long-term solution for tooth replacement.
If you would like more information about implants and bone loss, please contact us or schedule an appointment for a consultation. You can also learn more by reading the Dear Doctor magazine article "The Hidden Consequences of Losing Teeth."
By Briarcliff Center for Esthetic Dentistry
June 15, 2012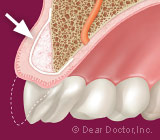 Dentists often recommend bone grafting to ensure the success of dental implants. And it is likewise common for people to squirm a bit at the thought. Bone graft? That sounds serious. And maybe a bit, well, unappealing. These feelings are completely understandable. After all, this may be something you've never had to consider before. But there's no reason to worry. Here's why:
Bone grafting is not new or experimental. It is actually a very routine part of the implant process, as well as other types of oral and periodontal surgery. And it is very successful when performed by an experienced doctor.
Bone grafting materials are processed for safety. The grafts used — whether synthetic or from a natural source, such as cow or human bone — have been specially treated for medical use.
Only a small amount of this bone-grafting material is needed. Once placed in the site of the missing tooth, it serves as a helpful scaffold your body uses to build more of its own bone in that spot.
Your implant will be more ideally positioned and may work better. It needs a good, strong foundation with which to fuse. But when teeth are lost, this supporting bone is often lost, too. This loss is often unpredictable and bone grafting limits the change that occurs. In fact that's one of the main benefits of replacing missing teeth with implants: they help prevent bone loss just as a natural tooth does.
Your implant will look so much better! Think about it: Your original tooth was supported to a certain height by the underlying bone. If that bone is now gone, the replacement tooth is going to be much longer because of the missing bone height. It may not look quite right without that additional support.
So if you want the best-looking and best-functioning implant possible, have no fear of bone grafting. And please contact us to discuss any of your concerns, or schedule an appointment for an implant consultation.
You can read more about this topic in the Dear Doctor magazine article "Can Dentists Rebuild Bone?"