Posts for tag: fluoride
By Briarcliff Center for Esthetic Dentistry
November 11, 2016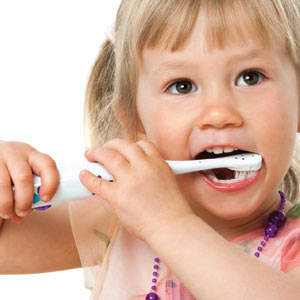 Like many other families, you may use formula instead of breast milk as a safe and healthy alternative to feed your infant. But, if you use a powdered form that you mix with water your child may be taking in more fluoride than they require.
Fluoride is a natural chemical that can strengthen tooth enamel and help prevent decay. After decades of study it's also been shown to pose no serious health risks. Because of fluoride's benefits and safety, many water utilities add tiny amounts to their drinking water supply.
But it can have one side effect called enamel fluorosis. If a child ingests too much fluoride during early development it can cause discoloring mottled spots or streaking in permanent teeth. Although it doesn't affect their health, the teeth can be unattractive and require cosmetic attention.
That's why it's best to keep fluoride consumption to a healthy minimum for children. That, however, is often easier said than done, since we can encounter hidden fluoride in a variety of places. Besides hygiene products and fluoridated drinking water, you may find fluoride in prepared juices and other beverages, bottled water or in foods processed with fluoridated water. There are no labeling requirements for fluoride, so you'll have to research to find out if a product contains fluoride.
There are, however, some things you can do to control your child's fluoride intake. First, know as much as you can about known sources your child may encounter like your water supply. You can find out if your utility adds fluoride and by how much by contacting them or visiting My Water's Fluoride online at https://nccd.cdc.gov/DOH_MWF/.
If you use fluoride toothpaste apply only a "smear" on the end of the brush for children under two and a pea-sized amount for older children. If you have fluoridated drinking water, consider breastfeeding your infant, use ready-to-feed formula or mix powdered formula with bottled water labeled "de-ionized," "purified," "demineralized" or "distilled."
And, do feel free to discuss your concerns with us during your child's regular checkup. We'll help you adjust their diet, water intake and hygiene habits to be sure they're receiving the right amount they need for developing strong teeth — and no more.
If you would like more information on appropriate fluoride levels for children, please contact us or schedule an appointment for a consultation. You can also learn more about this topic by reading the Dear Doctor magazine article "Tooth Development and Infant Formula."
By Briarcliff Center for Esthetic Dentistry
October 24, 2015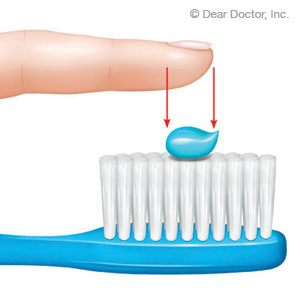 Since the 1950s fluoride has played an important role in the fight against tooth decay as an additive to hygiene products and many public water supplies. But although a proven cavity fighter, some have questioned its safety over the years.
To date, though, the only substantiated health risk from fluoride use is a condition known as enamel fluorosis, which occurs when too much fluoride is ingested during early tooth development as the mineral embeds in the tooth structure. Fluorosis can cause changes in the enamel's appearance, ranging from barely noticeable white streaking to darker visible staining and a pitted texture.
Fluorosis is primarily a cosmetic problem and not a serious health issue. The staining on otherwise sound teeth, however, is permanent and more severe cases may require extensive bleaching treatment to improve appearance. The best strategy is to prevent fluorosis by monitoring and limiting your child's fluoride intake, until about age 9.
Tooth decay is a more serious condition than fluorosis so we're not advocating you eliminate fluoride but that you keep your family's intake within safe levels. The first step is to determine just how much that intake is now, particularly if you drink fluoridated water. If you have public water, you may be able to find its fluoridation level online at apps.nccd.cdc.gov or call the utility directly.
You should also be careful about the amount of toothpaste your child uses to brush their teeth. Children under two need only a trace (a "smear") on the brush, and children between the ages of 2 and 6 a pea-sized amount. And, they should brush no more than twice a day.
Another possible concern is infant formula, especially mixable powder. While the formula itself doesn't contain fluoride, water mixed with it may. If you live in an area with increased fluorosis risk, consider breast-feeding (breast milk has little fluoride), using ready-to-feed formula, or mixing powdered formula with bottled water labeled "de-ionized," "purified," "demineralized" or "distilled."
We'll be glad to help assess your family's current fluoride intake and advise you on making adjustments to bring it into normal ranges. Taking in the right amount of fluoride assures you and your children receive the most benefit and protection from it, while avoiding future smile problems.
If you would like more information on managing your family's fluoride intake, please contact us today to schedule an appointment for a consultation. You can also learn more about this topic by reading the Dear Doctor magazine article "Tooth Development and Infant Formula."
By Briarcliff Center for Esthetic Dentistry
November 15, 2013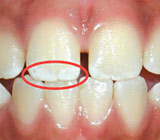 It's indisputable that fluoride has revolutionized dental care. Decades of research have overwhelming shown this natural, enamel-strengthening chemical has decreased tooth decay.
Too much fluoride, though, can cause enamel fluorosis, a permanent staining of tooth enamel. In its mildest form, the teeth develop faint whitish streaks; in more severe cases, the staining is noticeably darker and the teeth appear pitted. The teeth themselves aren't damaged, but the unsightly staining could require cosmetic treatment. Children under age 9 (when permanent teeth enamel matures) are especially at risk of fluorosis due to over-fluoridation.
Because of fluoride's prevalence in hygiene products and many drinking water supplies, it's not always easy to know if your child is receiving too much. There are two areas, though, that bear watching.
First, you should limit the serving quantity of fluoride hygiene products, particularly toothpaste. Children tend to swallow rather than spit out toothpaste after brushing, so they ingest more fluoride. We recommend a small "smear" of toothpaste on the brush for children under two, and a pea-sized amount for children two to four.
The other concern is your drinking water. Three-quarters of America's water systems add fluoride, usually to a recommended level of 0.70 PPM (parts per million). To know if your water supply adds fluoride and at what levels, you can contact your local water utility or health department, or check the Center for Disease Control's website for their "My Water's Fluoride" program (http://apps.nccd.cdc.gov/MWF/Index.asp). This site will have information if your water system participates in the program.
If your area exceeds recommended levels or is at high risk for fluorosis, we recommend reducing the use of tap water in infant formula. Besides breast-feeding (human breast milk is low in fluoride), you can use either ready-to-feed formula, or mix powdered formula with water specifically labeled "de-ionized," "purified," "de-mineralized," or "distilled."
One thing you should not do is eliminate your use of products containing fluoride — this may increase your child's risk of tooth decay. The consequences of decay can be serious and have a life-long effect — and far outweigh the risks of fluorosis staining.
If you would like more information on fluoride and your infant, please contact us or schedule an appointment for a consultation. You can also learn more about this topic by reading the Dear Doctor magazine article "Tooth Development and Infant Formula."