Posts for tag: dental hygiene
By Briarcliff Center for Esthetic Dentistry
January 16, 2014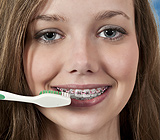 Taking care of your teeth is a lifetime commitment, if you want your teeth to last a lifetime. But it can be especially challenging if you're wearing traditional metal braces. With a little extra attention, though, you can reduce the risk of dental disease during orthodontic treatment.
The goal of oral hygiene is to remove biofilm, a layer of leftover food particles called plaque that is a haven for disease-causing bacteria. Orthodontic braces make access more difficult for performing oral hygiene. A little extra effort and attention, though, can make a big difference.
First, be sure you're eating a healthy diet and avoiding unhealthy snacks (especially those high in carbohydrates) between meals; this will discourage the growth of bacteria in the mouth. You should also limit your intake of sodas, sports or energy drinks since their high acidity contributes to tooth enamel erosion.
Although more difficult for someone wearing braces, brushing is still essential to good hygiene. Begin by holding a soft, multi-tufted bristle brush at a 45-degree angle, and then brush the surface area between the gum and the braces all the way around. Return to your starting point and brush the area from the braces to the edge of the top of the teeth in the same direction. Be sure you do this for both the upper and lower jaw and on both the cheek and tongue side.
Flossing is also more difficult, but not impossible. Instead of conventional floss thread, you can use special floss threaders, small interdential brushes, or an irrigation device that sprays pressurized water to remove food particles between teeth.
Above all, it's important to keep up regular office visits with us. In addition to monitoring overall dental health, we can also apply or recommend additional fluoride products to help strengthen teeth or prescribe antibacterial rinses to reduce the mouth's bacterial level.
Keeping up a good daily hygiene regimen and regular checkups will ensure that the smile you gain from wearing braces is healthy as well as beautiful.
If you would like more information on oral hygiene while undergoing orthodontic treatment, please contact us or schedule an appointment for a consultation. You can also learn more about this topic by reading the Dear Doctor magazine article "Caring for Teeth During Orthodontic Treatment."
By Briarcliff Center for Esthetic Dentistry
June 26, 2013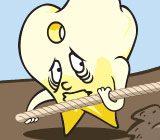 Your teeth are under constant attack from bacteria that normally live in your mouth. When these bacteria thrive, they create acid that begins to dissolve the minerals in your enamel (the outer layer of your teeth). In your defense, your saliva protects against these bacteria and adds minerals back to your enamel. Let's take a look at this ongoing battle, and what you can do to sway it in a positive direction.
The outer covering of your teeth, the enamel, is made mainly of the minerals calcium and phosphate. The enamel protects the interior layer of your teeth, the dentin, which is similar in composition to bone. Although it is the hardest substance in your body, the enamel is still vulnerable to attack.
Your mouth is normally full of saliva, which washes over your teeth and maintains a balance between acids and bases. The terms "acids" and "bases" refer to a scientific measurement, the pH scale. Your mouth's pH is usually in the middle of the scale — neither acidic nor basic, but neutral. This is important in controlling the bacteria in your mouth.
You may be surprised to know how many bacteria live in everyone's mouth. More bacteria live in a single mouth than the number of people who have ever lived on earth. Some of these bacteria can cause tooth decay. Let's call them "bad bacteria."
When the bad bacteria attach themselves to dental plaque — a film that builds up on your teeth every day — they begin to consume sugars that are in your mouth from foods that you have eaten. As the bacteria break down these sugars and turn them into energy, acid is produced as a by-product. This turns the saliva from neutral to acidic.
At a certain level of acidity, minerals in your enamel start to dissolve. This is called "de-mineralization." It means that more calcium and phosphate are leaving the tooth's surface than are entering it. Early de-mineralization of the enamel shows up as white spots on a tooth.
Fortunately, healthy saliva can return calcium and phosphate to the enamel, or re-mineralize it. De-mineralization and opposing re-mineralization are constantly battling in your mouth. However, if too much enamel is de-mineralized, bacterial acid can go on to attack the next layer of your teeth, the dentin. As this process continues, you develop a dental cavity.
How can you protect your teeth? The first level of defense is regular removal of plaque, so that the bad bacteria do not get a foothold. In an office visit we may also recommend products such as sealants, antibacterial agents, topical fluoride, calcium and phosphate supplements, pH neutralizers, special toothpaste and rinses, which may help your particular situation.
Contact us today to schedule an appointment to discuss your questions about tooth decay. You can learn more by reading the Dear Doctor magazine article "Tooth Decay — The World's Oldest & Widespread Disease."
By Briarcliff Center for Esthetic Dentistry
June 13, 2013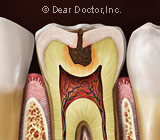 If you have ever had tooth decay, you should know:
Tooth decay is one of the most common of all diseases, second only to the common cold.
Tooth decay affects more than one-fourth of U.S. children ages 2 to 5, half of those ages 12 to 15, and more than 90 percent of U.S. adults over age 40.
Tooth decay causes pain, suffering and disability for millions of Americans each year — even more disturbing, tooth decay is preventable.
If it is not treated, in extreme and rare cases tooth decay can be deadly. Infection in an upper back tooth can spread to the sinus behind the eye, from which it can enter the brain and cause death.
Tooth decay is an infectious process caused by acid-producing bacteria. Your risk for decay can be assessed in our office with a simple test for specific bacterial activity.
Three factors are necessary for tooth decay to occur: susceptible teeth, acid-producing bacteria and a diet rich in sugars and refined carbohydrates.
Babies are not born with decay-causing bacteria in their mouths; the bacteria are transmitted through saliva from mothers, caregivers, or family members.
Fluoride incorporated into the tooth structure protects teeth against decay by making the enamel more resistant to acid attack.
Sealants, which close up the nooks and crannies in newly erupted teeth, stop bacterial collection where a toothbrush can't reach. Teeth with sealants have been shown to remain 99 percent cavity-free over six years.
Restricting sugar intake is important in preventing tooth decay. Your total sugar intake should be less than 50 grams a day (about ten teaspoons) including sugars in other foods. A can of soda may have six teaspoons of sugar — or more!
Contact us today to schedule an appointment to discuss your questions about tooth decay. You can learn more by reading the Dear Doctor magazine article "Tooth Decay – The World's Oldest & Most Widespread Disease."