Posts for tag: chipped tooth
By Briarcliff Center for Esthetic Dentistry
April 05, 2013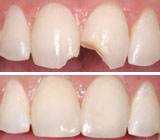 Imagine this: your active, adventurous child — or adolescent — loves high-risk contact sports like hockey or football, and while playing breaks a front tooth. After an emergency trip to our office, we recommend bonding as a good choice for this repair.
"What is bonding?" you ask. Here's what you need to know. In a bonding procedure, a composite resin restoration material is attached (bonded) to the broken tooth, and it looks as good as new.
Composite resin restorations are tooth-colored filling materials composed of a special plastic-based matrix for strength, with glass filler for aesthetics and translucence. The combination looks just like a natural tooth. The composite resin material is physically bonded to the remaining healthy tooth structure. First the natural tooth enamel or dentin must be etched so that the composite resin can attach and actually join to the tooth. In the end it will function as one and look exactly like a tooth.
Composites can be placed directly on the teeth in our office, quite easily, and they are relatively inexpensive. They look natural and can be matched to your child's natural tooth. They require little to no tooth reduction. Bonded composite resin restorations are the best choice for children and teenagers because their teeth and jaws are still growing and developing. What's more, they are still active in their sports and could need further restorations.
Composite resin restorations may need to be replaced with more permanent restorations after your child is fully grown. The bonded resin restorations may wear over time, and may stain and dull somewhat with age. When your child has completed growth, more permanent restorations such as porcelain veneers or crowns may be necessary.
By the way, a custom-made mouthguard might have prevented injury in the first place and certainly should be considered in the future.
If your child has chipped or damaged a tooth, contact us today to schedule an appointment or to discuss your questions about bonding and a protective mouthguard. You can also learn more by reading the Dear Doctor magazine article "Repairing Chipped Teeth."
By Briarcliff Center for Esthetic Dentistry
October 03, 2012
When choosing among different ways to solve a problem, knowledge is power. In the case of selecting the best repair for a dental problem, count on your team of dental professionals to advise you. But you as the patient make the final decision, and it helps to thoroughly understand the different options, their advantages and disadvantages. If you have a chipped or broken front tooth, your likely repair options are composite resin or porcelain veneer.
Composite resins are synthetic materials that can be colored to match your natural teeth. The material is bonded to the tooth surface using adhesives that become part of the tooth structure, strengthening the original tooth. The repair looks as good as, or even better than, your original tooth. Such repairs can be used to restore small to large chips and other damage caused by decay or trauma.
Since the composite resin repair is applied directly to the tooth in the dental office, the repair can be made in a single appointment. You do not need to use a temporary repair while waiting for the final replacement to be made at a dental laboratory. This also means that the repair will cost less.
Another advantage of composite resin is that less of the healthy tooth needs to be removed to prepare the tooth to receive the replacement, since it bonds directly to the original tooth structure.
Porcelain veneers are very thin layers of tooth-colored porcelain that are also bonded to the tooth. They are usually recommended in situations with more serious injury or risk to the tooth, such as teeth that have been fractured, treated for root canal, or injured in contact sports.
Application of porcelain veneers may require more tooth preparation (in which more of the original tooth material must be removed) before the restoration can be bonded in position. Bonded porcelain veneers are likely to be longer-lasting than composite resins. They must be fabricated in a laboratory, so they require more than one visit and cost more.
All of the above are factors to consider in choosing composite resin or porcelain veneer to restore your chipped or damaged tooth. As usual in making such decisions, the final choice will depend on your individual situation.
Contact us today to schedule an appointment to discuss your questions about bonding to repair chipped teeth. You can also learn more by reading the Dear Doctor magazine article "Artistic Repair of Front Teeth with Composite Resin."