Posts for tag: bad breath
By Briarcliff Center for Esthetic Dentistry
July 19, 2013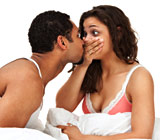 Treating bad breath is big business. Just check your local drug store or supermarket and you'll find a mind-numbing array of mints, gums, mouthwashes, sprays, strips and other products that promise to sweeten your breath and make you (or your mouth at least) irresistible. But most of these products only mask halitosis (from the Latin "halitus" – exhalation, and Greek "osis" – disease) and some even contain ingredients, like sugar, that contribute to tooth decay and gum disease. In most cases, for enduring, healthful results, nothing beats a trusty toothbrush, toothpaste and floss, used faithfully and correctly, along with periodic dental checks and cleanings.
Oral bacteria are the number one reason for noxious breath. More than 600 types inhabit our mouth, and some of them emit awful odors — predominantly volatile sulfur compounds characterized by a "rotten egg" smell) — as they consume remnants of food trapped in our mouth. Brushing and flossing regularly, especially after eating, can dislodge food trapped between teeth (interdental) and under the gums (subgingival), depriving microbes of a ready-made meal. It also disrupts the buildup of sticky plaque (microbial "biofilms") where odor-causing germs can flourish.
When cleaning your mouth, pay special attention to the back of the tongue. It is the primary location for generating halitosis because it is drier and less efficiently cleansed by saliva and normal oral activity than the front. Our office can instruct you on proper oral hygiene including the gentle use of a tongue scraper or brush.
Sometimes more involved periodontal techniques such as scaling and root planing (deep cleaning) are called for; antibiotics may be useful in targeting the offending microbes. If tooth decay and/or periodontal (or gum) disease is contributing to halitosis appropriate treatment is necessary.
Remember that foul breath is just a symptom of some underlying condition. If diligent oral care at home doesn't do the trick, our office can help you get to the root of the problem and determine the appropriate therapy.
If you would like more information about halitosis and ways to prevent or treat it, please contact us or schedule an appointment for a consultation. You can also learn more about this topic by reading the Dear Doctor magazine article "Bad Breath."
By Briarcliff Center for Esthetic Dentistry
April 27, 2013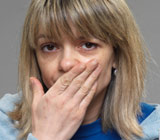 While most people can expect to have a temporary case of bad breath after eating spiced foods like garlic, smoking, drinking coffee or wine, odor that persists and becomes chronic is not something to take lightly. We can help diagnose the underlying cause of your bad breath, making both you and the people around you much happier!
Chronic bad breath, also known as "halitosis," affects about 25% of Americans to some extent. Treating the condition effectively requires a thorough oral examination to uncover the source of the odor. Although some forms of bad breath can be caused by medical conditions like diabetes, lung infections, even kidney failure and cancer, between 85% and 90% of cases originate in the mouth. There are more than 600 types of bacteria found in the average mouth and, given the right (or, should we say, wrong) oral environment, dozens of these bacteria can produce foul odors including a "rotten egg" smell from the production of volatile sulfur compounds (VSCs).
Some of the oral causes of bad breath include:
Naturally occurring bacteria found on the back of the tongue that thrive on food deposits, dead skin cells and post nasal drip (Yuck!);
Dry mouth, after sleeping, especially when an individual breathes through his or her mouth;
Unclean dentures;
Decaying or abscessed teeth;
Diseased gums; and
Infected tonsils.
Once the exact origin of the odor has been determined, we can tell you what form of treatment you'll need to successfully banish the bad breath for good. If your problem is merely the result of poor oral hygiene you can play a large role in turning your situation around. In any case, treatments for mouth-related halitosis can include:
A careful, at-home plaque control routine using dental floss and a special toothbrush designed to clean between teeth — nobody really knows how to properly clean without professional instruction;
In-office and at-home tongue cleaning using a tongue scraper or brush;
Instruction on how to properly clean your dentures;
To treat underlying gum disease, periodontal therapy in the form of a deep cleaning, also known as scaling or root planing; and
Extraction of wisdom teeth that exhibit debris-trapping gum tissue traps.
So if you are ready to toss your breath mints away and pursue a more permanent solution to rectify your mouth odor, call our office today to schedule an appointment. For more information about the causes of bad breath, read the Dear Doctor magazine article "Bad Breath: More Than Just Embarrassing."
By Briarcliff Center for Esthetic Dentistry
May 22, 2012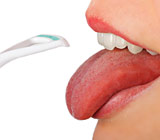 Bad breath can have a serious impact on a person's social and business life. Americans are well aware of this fact, and spend nearly $3 billion each year on gums, mints, and mouth rinses in order to make their breath "minty fresh."
Bad breath or halitosis (from the Latin halitus, meaning exhalation, and the Greek osis, meaning a condition or disease-causing process) can originate from a number of causes; but oral bacteria are the most common source. About 600 types of bacteria grow in the average mouth. If bacteria act on materials that have been trapped in your mouth, many of them produce unpleasant odors.
Most often, bad breath starts on the back of the tongue, the largest place in the mouth for a build-up of bacteria. In this area bacteria can flourish on remnants of food, dead skin cells, and post-nasal drip. As they grow and multiply these bacteria produce chemical products called volatile sulfur compounds or VSCs. These compounds emit smells of decay reminiscent of rotten eggs.
In addition to bacteria on the tongue, halitosis may come from periodontal (gum) disease, tooth decay, or other dental problems. If you have halitosis, it is thus important to have a dental examination and assessment, and to treat any such problems that are found. Treating bacteria on the tongue without treating underlying periodontal disease will only temporarily cure bad breath.
The next step is to take control of tongue bacteria by brushing or scraping your tongue, with possible addition of antiseptic mouth rinses. People who have bad breath have more coating on their tongues than those who don't, and regularly cleaning the surface of the tongue has been demonstrated to reduce bad breath.
Implements have been designed specifically for the purpose of scraping or brushing the surface of the tongue. Using a toothbrush is not as effective because it is designed to clean the hard tooth surface, rather than the spongy surface of the tongue. To keep your breath fresh, you must regularly remove the coating from your tongue. This means acquiring a tongue scraper or brush and using it every day.
Contact us today to schedule an appointment to discuss your questions about tongue cleaning and bad breath. You can also learn more by reading the Dear Doctor magazine articles "Tongue Scraping" and "Bad Breath."